20th AVA Congress 2017
posted on June 1, 2017
Dear Sir/Madam
The AVA Singapore Chapter, represented by the Singapore Institute of Surveyors and Valuers will be hosting the 20th AVA Congress 2017 from 11 – 13 September 2017.
The ASEAN Valuers Association (AVA) was established in 1981 with five founding members namely, Indonesia, Malaysia, Philippines, Singapore and Thailand.
AVA has expanded its membership to include Brunei (1990), Vietnam (1997) and Cambodia (2009). The AVA is an Accredited Civil Society Organisation of ASEAN.
The Main Congress is a major event for ASEAN valuers. This year also marks the 50th Anniversary of ASEAN.
The theme of the Congress for this year is "Valuation – Real Estate and Beyond". Speakers from various AVA Chapters as well as specially invited valuation experts from the region will be presenting papers on key topics which include "The need for Global Valuation Standards, Global versus Local Valuation Practice, Business Valuation, Valuation of Specialised Properties, Valuation of Green and Smart Buildings, New Accounting Standards on Valuation and Real Estate Valuation – Challenges and Issues".
For this forthcoming AVA Congress in Singapore, we have successfully invited three distinguished speakers from Korea, Hong Kong and Singapore.
These speakers who are specialists in their areas of valuation will be sharing on Valuation of Green and Smart Buildings (Korea), Valuation of the New Accounting Standards (Hong Kong) and Valuation of Data Centre (Singapore).
In conjunction with this AVA Congress, there is a one-day course on International Valuation Standards 2017 (IVS 2017) conducted by World Association of Valuation Organisations (WAVO) trainers following the Congress.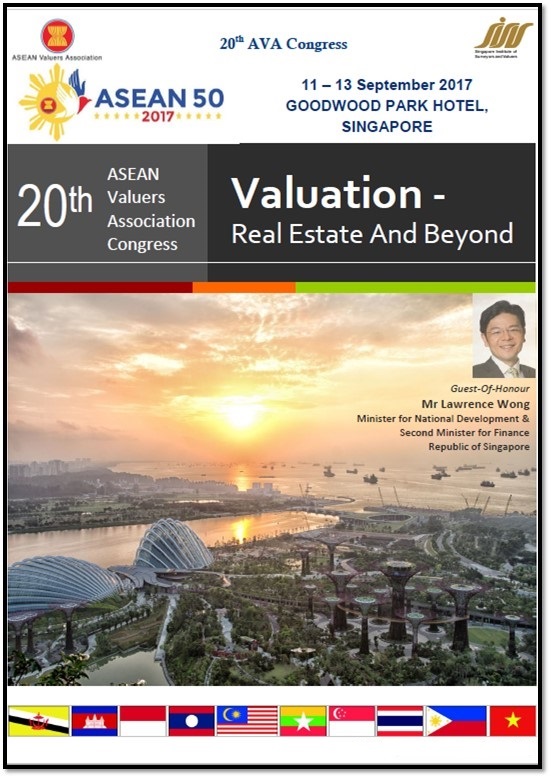 We look forward to your support in registering for the forthcoming AVA Congress in Singapore.